Heat Shrinkable Cable Accessory:
Heat Shrink Medium Wall, Non-Tracking Tubes (NTT)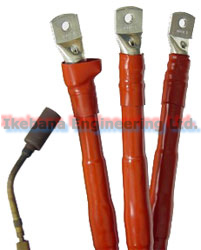 Download
Ikebana Heat Shrink Medium Wall, Non-Tracking Tubes (NTT) Brochure
(Specifications and the product dimensions given in this brochure are subject to change without notice.
Please refer to the latest version of the drawings and specification-sheets on the Ikebana web site,
or contact our office in Thailand.)
Product Data Sheet
Product Features
For Medium Voltage Insulation
Ikebana NTT, heat shrink medium wall tubing, is a non-tracking tubing for indoor and outdoor applications for termination of medium voltage XLPE and paper insulated power cables. Ikebana NTT has good resistance to tracking and erosion which provides excellent electrical insulation to the components inside. It offers good protection from environmental effects, ultra-violet radiation and moisture. The tough cross-linked polyolefin material provides good mechanical protection.

Ikebana NTT is easy to install. A common gas torch is required to heat and recover the tubes onto the power cables or accessories. Ikebana NTT has a high shrink ratio which allows it to be used with a wide range of cable sizes.
Ikebana heat shrink medium wall non-tracking tubes have:
EXCELLENT HEAT RESISTANCE: Made from cross linked polyolefin, non-melting.
LARGE APPLICATION RANGE: Expansion ratio 3:1.
CONTINUOUS OPERATING TEMPERATURE: 55ºC TO 125ºC.
EXCELLENT TRACKING AND EROSION RESISTANCE.
SHRINKING TEMPERATURE: Min. 125ºC.
EASY INSTALLATION: On site using gas torch or hot air blower.

The following application table gives the NTT dimensions:
Size (mm)

 Inside Diameter  

Wall Thickness
W - R
 Standard Length
(meters)  

Min D-S

Max D-R

NTT 20/6  

20.0

  6.0

2.5

30

NTT 30/10

30.0

10.0

2.7

30

NTT 40/12

40.0

12.0

2.8

30

NTT 50/16

50.0

16.0

3.0

25

NTT 60/20

60.0

20.0

3.2

25

NTT 75/25

75.0

25.0

3.2

20

NTT 85/30

85.0

30.0

3.4

15


   Copyright © , Ikebana Engineering Ltd.   All Rights Reserved.Site maintained by Vaman People