Heat Shrinkable Cable Accessory:
Stress Grading Mastic (Yellow Mastic)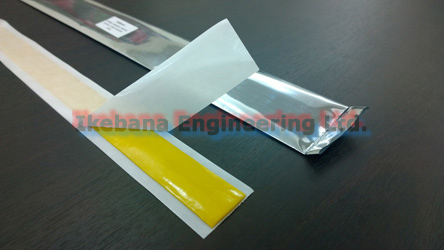 Download
Ikebana Stress Grading Mastic (Yellow Mastic) Brochure & Specification Sheet
(Specifications and the product dimensions given in this brochure are subject to change without notice.
Please refer to the latest version of the drawings and specification-sheets on the Ikebana web site,
or contact our office in Thailand.)
Product Data Sheet
Characteristics
This data sheet covers the requirements for stress grading mastic (Yellow mastic) supplied in tape form for void filling in terminations and joints. The Stress grading mastic provides excellent stress control functions.
Typical Applications
Stress grading mastic is used in MV terminations and joints for providing stress relief of the electric field. The mastic is water resistant and has high adhesion property to connectors and cable components. It is self-fusing and can be used for filling voids even for irregular shapes. The color of the stress grading mastic is yellow.
The following table gives the standard dimensions:


| | | | |
| --- | --- | --- | --- |
| | | | |
| SGM500 | 25 | 2 | 500 |
ALL DIMENSIONS IN MM
Other lengths are available on request.
Materials
The base material of the Stress grading mastic is thermally stabilized, blended polyolefins. The basic resin is mixed with chemical additives offering electrical stress control properties.
Part Numbering System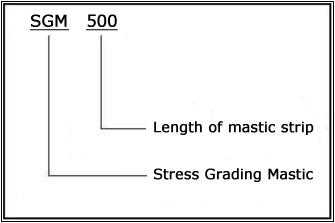 Packaging
Stress Grading Mastic is supplied in strip form of specfied dimensions with release paper on both sides. 2 strips are packed in an aluminium foil to protect from environmental effects. Specified number of aluminium packs are packed in a standard corrugated carton. The outer carton carries an IKEBANA label with information of the contents and the customer's name.


   Copyright © , Ikebana Engineering Ltd.   All Rights Reserved.Site maintained by Vaman People