Heat Shrinkable Cable Accessory:
Heat Shrinkable Conductive End Caps
(Heat Shrink End Seals)

Ikebana Heat Shrink Conductive End Caps Brochure
(Specifications and the product dimensions given in this brochure are subject to change without notice.
Please refer to the latest version of the drawings and specification-sheets on the Ikebana web site,
or contact our office in Thailand.)
Product Data Sheet
Characteristics
This data sheet covers the requirements for heat shrinkable conductive end caps whose dimension will shrink to a predetermined size upon the application of heat above 125° C. Color of the conductive end caps is black. The conductive end caps are precoated on the machine with a hot melt adhesive of translucent, yellowish color. Coating is in spiral form. The conductive end caps have a filling of condutive mastic at the head of the end cap.
Typical Applications
Conductive end caps are used for protecting the unused cable end where there are live cables in the close vicinity of this cable. The live cables nearby create an electric field and induce a potential in the unused cable. The conductive end cap neutralizes this potential induced in the unused cable. Conductive end caps also protect the cable end from the environmental effects like the normal end caps. The below application table gives the conductive end cap dimensions for each model.
Conductive
Mastic Length

Supplied

Recovered

1

IXL 100SCON

10.0

3.0

35

2.3

5

2

IXL 100CON

15.0

4.5

45

2.3

7

3

IXL 105CON

20.0

6.0

63

3.1

9

4

IXL 110CON

25.0

8.5

70

3.0

8

5

IXL 120CON

40.0

14.5

102

3.2

13

6

IXL 130CON

63.0

24.0

118

3.7

16

7

IXL 135CON

75.0

32.0

120

4.3

23

8

IXL 140CON

78.0

38.0

130

4.0

26

9

IXL 145CON

106.0

45.0

164

4.5

29

10

IXL 150CON

100.0

57.0

155

4.0

25

11

IXL 160CON

120.0

57.0

155

4.0

25

12

IXL 170CON

145.0

57.0

155

5.0

25
Engineering Drawings

Conductive End Caps (End Seals)
Materials
The base material of the conductive end caps is thermally stabilized, cross linked polyolefin. The raw material is compounded with a package of chemical additives offering protection against oxidation, ozone, UV radiation etc. The most important additive is conductive carbon black which adds electrical conductivity to the material. The head of the conductive end cap is filled with conductive mastic for positive contact with the cable end.
Part Numbering System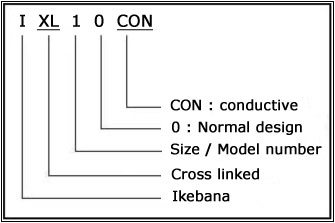 Download Specification Sheet
Printing on the Product
Each Ikebana conductive end cap is printed with a heat resistant printing ink of white color.
Printed information includes:
1. Ikebana logo
2. Product code
3. End cap dimensions
Packaging
Conductive end caps are packed individually, in a convenient way inside a polythene bag, in order to reduce consignment volume. Outer packing is a standardized Ikebana corrugated carton with strapping and a label with information of customer and contents. It also has QA approval seal.


   Copyright © 2021, Ikebana Engineering Ltd.   All Rights Reserved.Site maintained by VamanPeople