Heat Shrinkable Cable Accessory:
Heavy Wall Insulating Tubes (MVIT)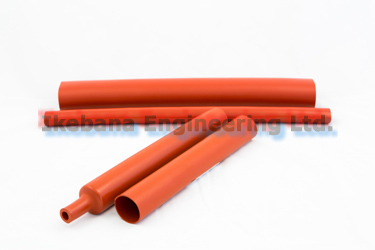 Download
Ikebana Heavy Wall Insulating Tubes (MVIT) Brochure & Specification Sheet
(Specifications and the product dimensions given in this brochure are subject to change without notice.
Please refer to the latest version of the drawings and specification-sheets on the Ikebana web site,
or contact our office in Thailand.)
Product Data Sheet
Characteristics
This data sheet covers the requirements for heat shrinkable heavy wall insulating tubes (MVIT) whose dimension will shrink to a predetermined size upon the application of heat above 125° C. Color of the MVIT is red. The MVIT provides a high level of insulation.
Typical Applications
MVIT is normally used as an integral part of cable joints up to 36kV for protection & insulation. MVIT provides excellent insulating properties and reinstates the original insulation level of the cable.
The following application table gives the MVIT dimensions.
Wall Thickness
Recovered

Standard Length
(meters)

As Supplied
(min)

Recovered
(max)

MVIT 40/12

40

12

4.3

1.0 / 1.5

MVIT 50/16

50

16

4.3

1.0 / 1.5

MVIT 60/20

60

20

4.5

1.0 / 1.5

MVIT 75/25

75

25

4.5

1.0 / 1.5

MVIT 100/30

100

30

4.5

1.0 / 1.5
ALL DIMENSIONS IN MM
Materials
The base material of the MVIT is thermally stabilized, cross linked blended polyolefins. The basic resin is mixed with chemical additives offering good insulating properties.
Part Numbering System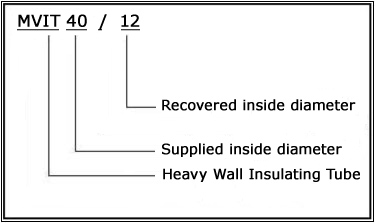 Packaging
MVIT are available in standard lengths of 1 or 1.5 meters. MVIT cut to specified lengths are produced on request. These are packed in a polythene bag and specified number of polythene bags are packed in a standard corrugated carton. The outer carton carries an IKEBANA label with information of the contents and the customer's name.


   Copyright © , Ikebana Engineering Ltd.   All Rights Reserved.Site maintained by Vaman People