Heat Shrinkable Cable Accessory:
Black Insulating Mastic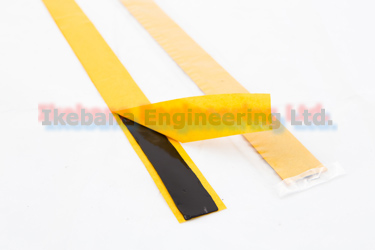 Ikebana Black Insulating Mastic Brochure
(Specifications and the product dimensions given in this brochure are subject to change without notice.
Please refer to the latest version of the drawings and specification-sheets on the Ikebana web site,
or contact our office in Thailand.)
Product Data Sheet
Characteristics
This data sheet covers the requirements for black insulating mastic supplied in tape form for void filling. The black insulating mastic provides excellent sealing and insulating functions.
Typical Applications
Black insulating mastic is used in LV & MV terminations and joints to protect the heat shrink material by covering the sharp edges of metallic parts. It is a self-fusing mastic and is used for filling voids and irregular shapes. It also acts as an environmental seal to prevent ingress of water and other environmental contaminants.
The following table gives the standard dimensions:


| | | | |
| --- | --- | --- | --- |
| | | | |
| BMS600 | 20 | 2 | 600 |
ALL DIMENSIONS IN MM
Other lengths are available on request.
Materials
The base material of the black insulating mastic is thermally stabilized, blended rubber. The base rubber is mixed with chemical additives offering good insulating properties.
Part Numbering System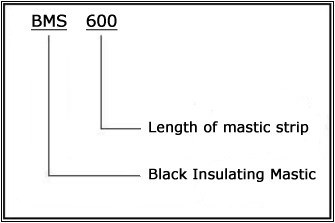 Download Specification Sheet
Packaging
Black insulating mastic is supplied in strip form of specied dimensions with release paper on both sides. A specified number of strips are packed in a plastic bag. Specified number of bags are packed in a standard corrugated carton. The outer carton carries an IKEBANA label with information of the contents and the customer's name.


   Copyright © 2021, Ikebana Engineering Ltd.   All Rights Reserved.Site maintained by VamanPeople